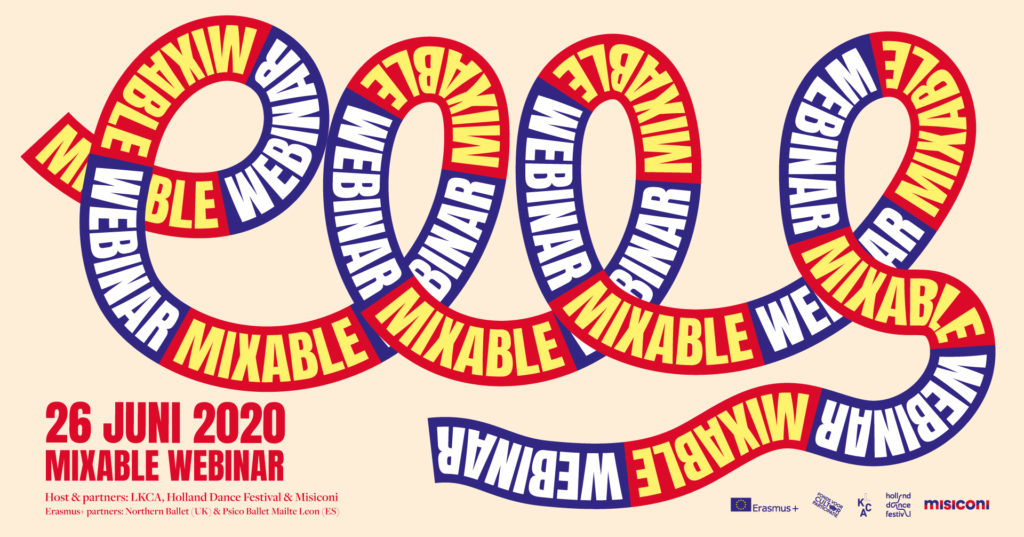 MIXABLE FESTIVAL goos onlineM
In collaboration with LKCA and Holland Dance Festival a webinar about the inclusive arts is organised on the 26th of Juni een. Klick here
Corona News!
In accordance with national and international guidelines of 31-03, the board of Misiconi Foundation has decided not to continue the Mixable Festival in accordance to the original programm for the following reasons:
The health of the dancers and the freelancers of the Misiconi Foundation is paramount in every decision of the board. Because the Erasmus project is an international project, the board cannot guarantee the health of the freelancers and participating parties in this set-up.
The chance of banning the Coronavirus in the period of the Erasmus project is extremely small, so the chance of extending most measures in Europe until the summer holidays is high. The locations of the Misiconi Foundation and many other art organizations will not be open in the near future, so it is not possible to rehearse.
The Erasmus project is carried out under the responsibility of the European Union. All countries within the European Union work together to combat the Corona virus. We want to contribute to this as an organization. The continuation of the Erasmus project in this form is diametrically opposed to this.
In concrete terms, this means that we will look for another way to have the festival take place in accordance to the Erasmus + guidelines. Think of an online version and a physical version of the festival in early 2021. However, this is not yet 100% certain.
Financial agreements have been made with each of you for the festival. Unfortunately, we do not yet have any insight into how the budgets of funders will change and we will have to make new agreements in due time.
Of course we realize that these measures have a great impact on all project participants. However, we also see that these measures are necessary to ensure the health of all participants and guests.
We will let you know as soon as possible how we will shape this reduced online variant. Where possible, we have the request to keep the Mixable data 25.26 and 27 June free.

Thank you for your patience and best regards,
Also on behalf of the board and Joop Oonk

The secret of change is to focus not on fighting the old, but on building the new