Op zaterdag 20 juni 13:15 geeft Laura Jones van Stopgap Dance Company een inclusieve dansles over bewegen met textures.
In deze Inclusive Dane Masterclass met Laura Jones zullen we onderzoeken hoe verschillende texturen bewegingsmateriaal kunnen genereren en informeren. Door middel van begeleide improvisatie en het opbouwen van gestructureerde bewegingssequenties, word je ondersteund om ontdekkingen en keuzes te doen die relevant zijn voor je eigen bewegingspotentieel. Met een focus op het gevoel en de kwaliteit in plaats van op het uiterlijk en de vorm van beweging, is dit een kans om van binnenuit te dansen. De les wordt in het Engels gegeven, maar gebruikt ook afbeeldingen, geluiden en visuele aanwijzingen om bewegingsopdrachten te begeleiden. Een basisniveau Engels wordt aanbevolen.
Stopgap Dance Company maakt opwindende dansproducties voor nationale en internationale tournees. We hebben kunstenaars met en zonder een beperking in dienst die innovatieve manieren vinden om samen te werken. Als organisatie delen we openlijk vaardigheden en kennis door middel van prestaties, professionele training, gemeenschapsbereik en publicaties. We creëren ons werk voor een zo breed mogelijk publiek omdat we de perceptie van verschillen willen veranderen en iedereen willen inspireren om hun potentieel te bereiken.
Deze masterclass maakt gebruik van enkele van de ideeën die Stopgap heeft gedeeld in hun Home Practice-programma, een reeks gratis online inclusief danslessen, ontworpen om je te helpen je dansvaardigheden thuis te ontwikkelen. Bezoek hun YouTube-kanaal om meer van hun lessen uit te proberen.
Voor meer informatie over Home Practice ga naar de website hier. En hun YouTube kanaal hier.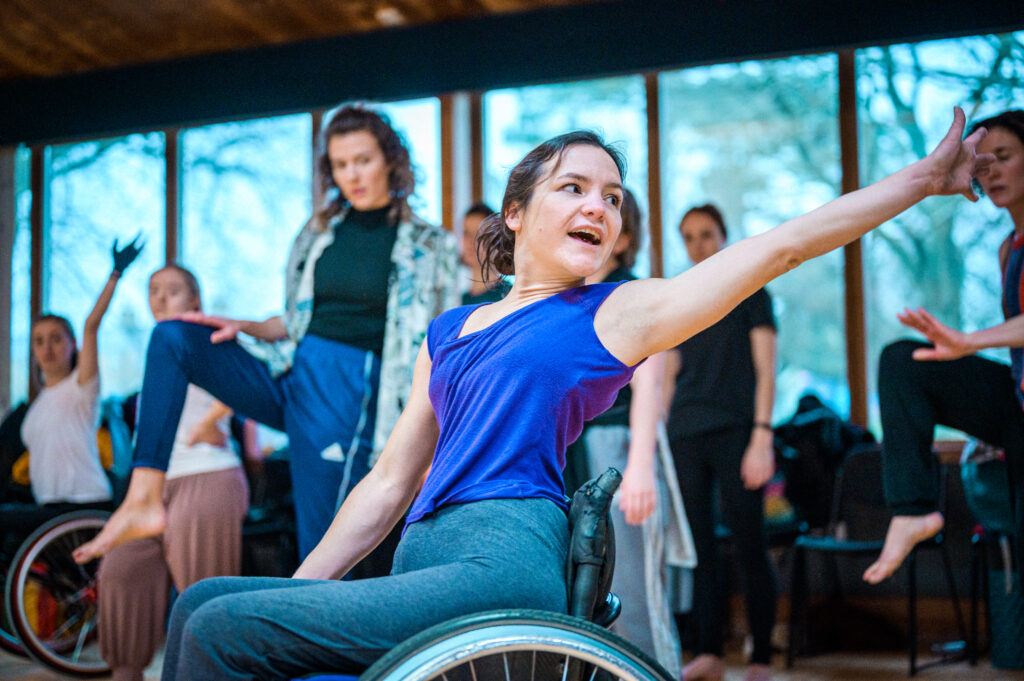 [eng]On Saturday the 20th 13:15 Laura Jones from Stopgap Dance Company will teach an inclusive dance class all about textured moving.
In this Inclusive Dane Masterclass with Laura Jones, we will explore how different textures can generate and inform movement material. Working through guided improvisation and building up to structured movement sequences, you will be supported to make discoveries and choices relevant to your own movement potential. With a focus on the feel and quality rather than the look and shape of movement, this is a chance to dance from the inside out. The class will be delivered in English, but will also use images, sounds and visual prompts to inform movement tasks. A basic level of English is recommended.
Stopgap Dance Company create exhilarating dance productions for national and international touring. We employ disabled and non-disabled artists who find innovative ways to collaborate. As a charitable organization we openly share skills and knowledge through performance, professional training, community outreach and publications. We create our work for the widest possible audience because we want to shift perceptions about difference and inspire everyone to achieve their potential.
This masterclass uses some of the ideas Stopgap have shared in their Home Practice programme, a series of free online inclusive dance classes, designed to help you develop your dance skills at home. Do visit their YouTube channel to try out more of their classes
For more information on Home Practice visit their website here. And their Youtube link for Home Practice videos here